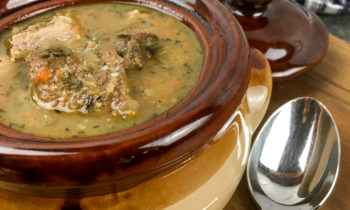 This hearty and delicious soup features an inexpensive cut of meat – pork shoulder "country-style" ribs – for added flavor. If unavailable, chopped bacon, pancetta, or ham may be substituted.
Important Note: To keep this recipe gluten free, be sure to carefully read packaging on commercially available dried bean soup blends. Some brands, such as the Goya 16 Bean Soup Mix, contain barely. However, gluten-free blends are available, including Bob's Red Mill 13-bean mix.
The herb blend used here is not carved in stone. Although herbs de Provence has a distinctive flavor profile, it is not critical to the success of this recipe. Two tablespoons of Italian seasoning (vs. the 4 dried herbs listed below) would work as well.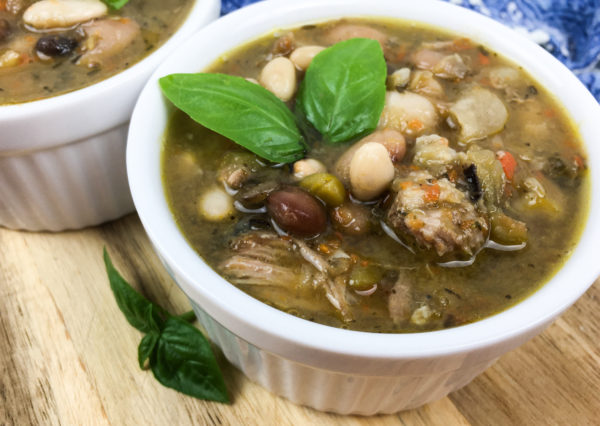 Prep Time

20

minutes (+ time to soak beans)
Prep Time

20

minutes (+ time to soak beans)
Soak beans overnight or use the quick soak method according to package directions. Set aside.

Add olive oil to a 6 quart or larger Dutch oven set over medium heat. Season pork ribs with salt and black pepper, to taste, and add to Dutch oven. Sear on both sides, approximately 6-7 minutes per side or until the meat easily releases from the bottom. Transfer ribs to a plate and set aside.

Add the remaining olive oil, celery, carrot, onion, and garlic to the Dutch oven. Season with salt and black pepper, to taste, and stir to combine. Cook, stirring occasionally, until the vegetables soften and begin to develop some color, approximately 4-5 minutes.

Return ribs to Dutch oven and add soaked and drained beans, chicken broth (or water), bay leaves, and dried herbs. Season with additional salt and black pepper, as desired, and stir to combine.

Increase heat to medium-high and bring to a rapid boil, then immediately reduce heat to just below medium for one hour and 15 minutes or until pork falls easily off the bones and the beans are tender, but not mushy.

Remove from heat and remove the bones from the Dutch oven. Pull the pork apart with two forks to create bite-sized pieces. Taste and adjust seasonings, as desired. Stir in fresh chopped basil and serve immediately. Enjoy!