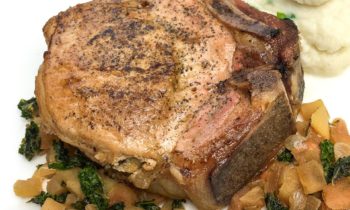 These delicious stuffed pork chops pack incredible flavor into every bite. The fresh lemon zest helps pull all the flavors together, while adding an unexpected bright note. The result? A thoroughly enjoyable and healthy meal your whole family will love!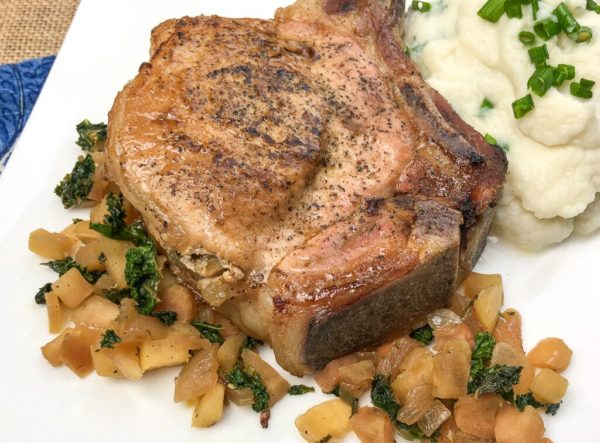 | | |
| --- | --- |
| | |
Place top oven rack in center position and pre-heat oven to 375°F.

Heat one tablespoon olive oil in a large, ovenproof skillet or sauté pan over medium-high heat. Add diced onion and garlic and cook, stirring occasionally, until the onion is soft and fragrant, around 4-5 minutes.

Reduce heat to medium and add another tablespoon of olive oil. Add the kale, apple, cinnamon, lemon zest, and fresh rosemary to skillet and cook, stirring occasionally, until the apple is soft and the kale is just wilted, approximately 3-4 minutes. Season with salt and black pepper, to taste, and stir to combine. Remove from heat and transfer apple mixture to a medium-sized bowl and set aside.

With a sharp knife, carefully make a slit through the center of each pork chopto form a pocket. Do not cut all the way through. Divide the apple-rosemary filling between the 4 pork chops and secure the openings with toothpicks to hold the stuffing inside.

Return the skillet to medium-high heat and add remaining olive oil. Sear the pork chops on both sides until golden brown, around 3-4 minutes per side.