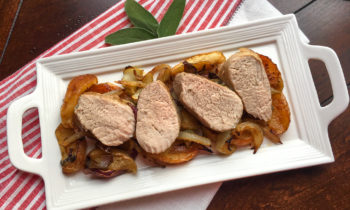 For best results, prepare this recipe on two sheet pans, rather than one. The tenderloin releases a lot of juice while cooking, which can lead to soggy vegetables if they are all cooked together. If roasted separately, the apple and vegetables will have a chance to develop a deep, rich color, which leads to better flavor and a nicer presentation.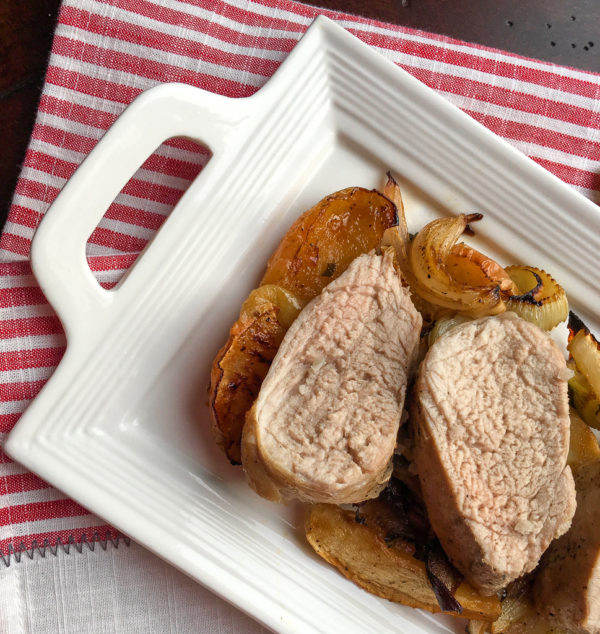 Set the bottom oven rack to the bottom 3rd and a second rack to the top 3rd. Preheat oven to 400°F and line two rimmed baking sheets with parchment paper or Silpat® baking mats. Set aside.

In a large bowl, toss the apple, fennel, red onion, sage, 2 tablespoons of olive oil, and balsamic vinegar. Season with salt and black pepper, to taste, andcombine until the apple and veggies are completely coated.

Spread the apple mixture onto one of the prepared baking sheets and roast on the bottom oven rack for 10-15 minutes, or just until the veggies start to soften and develop a bit of color.

While the apples and veggies are roasting, place the pork tenderloin in the center of the second baking sheet and brush with the remaining olive oil. Generously season with salt and black pepper, to taste.

Once the apples and vegetables start to develop some color, place the seasoned pork tenderloin on the top oven rack and roast for 15 minutes before turning the pork. Cook tenderloin for another 10-15 minutes, or until itis cooked through.*

Remove both sheet pans from the oven and allow the pork to rest for 10 minutes before slicing and serving with the roasted apple and vegetables. Enjoy!
*Note: Always cook meat to temperature, not by time. Actual cooking time will vary based on a number of factors, including internal starting temperature, individual oven variations, size and thickness of the meat, what else is in the oven while cooking, etc...
The minimum safe cooking temperature for fresh pork is 145°F <>