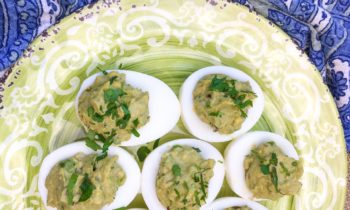 For a tasty twist on classic deviled eggs, give this slightly spicy version a try. The combination of avocado, red pepper flakes, and other spices add tons of extra flavor to an otherwise basic recipe.
Prefer more (or less) heat? Simply adjust the amount of crushed red pepper until you find the right balance.
Tip: Add white vinegar to the water when making hard-boiled eggs to make them easier to peel.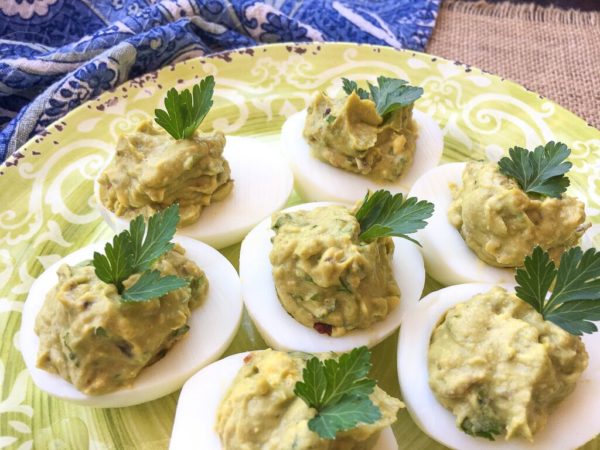 | | |
| --- | --- |
| | |
Place eggs in a large pot and cover by an inch or two cold water. Add 2 tablespoons of white vinegar to the pot and bring to a rolling boil. Cover and turn off heat. Let the eggs sit on burner, covered, for 11-12 minutes.

Drain the eggs and rinse in cold water to stop cooking process. Once cool enough to handle, gently peel and slice each egg in half lengthwise.

Carefully remove the yolks with a spoon and transfer to a small mixing bowl. Set the cooked egg whites aside.

Add the avocado, lemon juice, avocado mayonnaise, red pepper flakes, garlic powder, onion powder, and smoked paprika to the bowl with the yolks. Season with salt and black pepper, to taste, and mash everything togetheruntil thoroughly combined.

Fill each egg half with a tablespoon of the avocado mixture and top with fresh parsley. Serve immediately and enjoy!