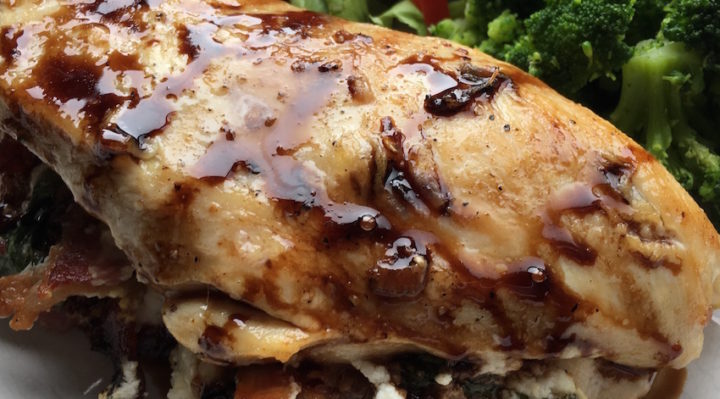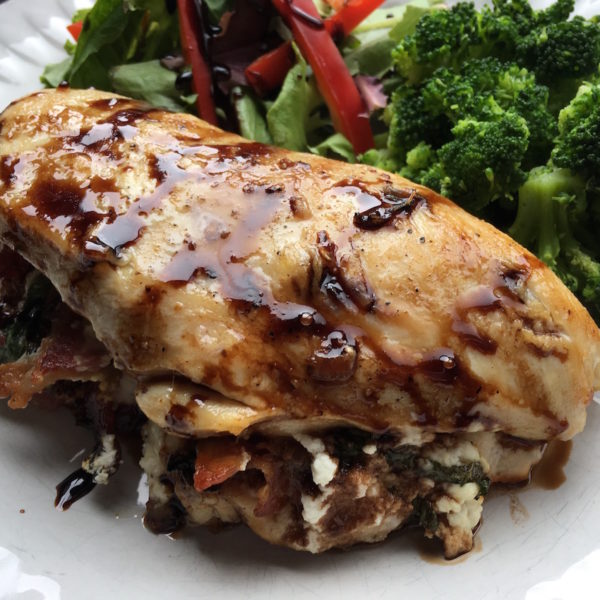 | | |
| --- | --- |
| | |
Preheat oven to 375 degrees.

Butterfly the chicken by running a sharp knife horizontally through the thickest part of each breast. Place one hand on top of the breast to stabilize while holding the knife parallel to the work surface while cutting. Do not cut all the way through. Open the breast so both halves can lie flat.

Season the exposed surface with salt and pepper, then add 1/4 of the goat cheese, crumbled bacon, and sliced basil leaves to each breast. Fold the breasts in half so the cheese mixture is surrounded by chicken breast on the bottom, back and top. Secure with long wooden toothpicks, if desired.

Heat olive oil over medium-high heat in a large oven-safe skillet. Once hot, add the stuffed chicken breasts to the pan to sear. Once browned on the bottom, carefully turn each breast over and repeat on the other side. Season top and bottom with salt and pepper, if desired, during this process.

Place skillet in preheated oven and cook until an instant read thermometer reads 165 degrees when inserted, approximately 25-30 minutes. Remove from the oven and cover until ready to serve.

A few minutes before removing the chicken from the oven, start making the balsamic glaze. Heat balsamic vinegar in a small sauce pan over medium-high heat. Stir while heating until the vinegar is reduced to about 1/3 of its original volume. It will form a thick, syrupy consistency when it is ready.

To serve, place a stuffed chicken breast on each plate and drizzle with balsamic glaze. Pairs well with a mixed green salad or roasted vegetables.