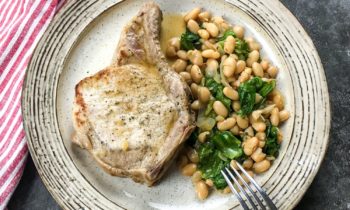 This recipe features 2 large bone-in pork chops weighing in at 12 oz. each. They can be served as is for two hearty portions or divided to serve four.
As always, cook meat to temperature, not by time. Final cooking time will depend on a number of factors, including the size and thickness of the cut of meat and the starting internal temperature. The safe cooking temperature of pork is 145°F degrees. To avoid overcooking, remove from heat once temperature passes 140°F. The temperature will continue to rise several degrees while the meat rests.
Tip: The escarole in this recipe may be substituted with chopped kale, Swiss chard, or spinach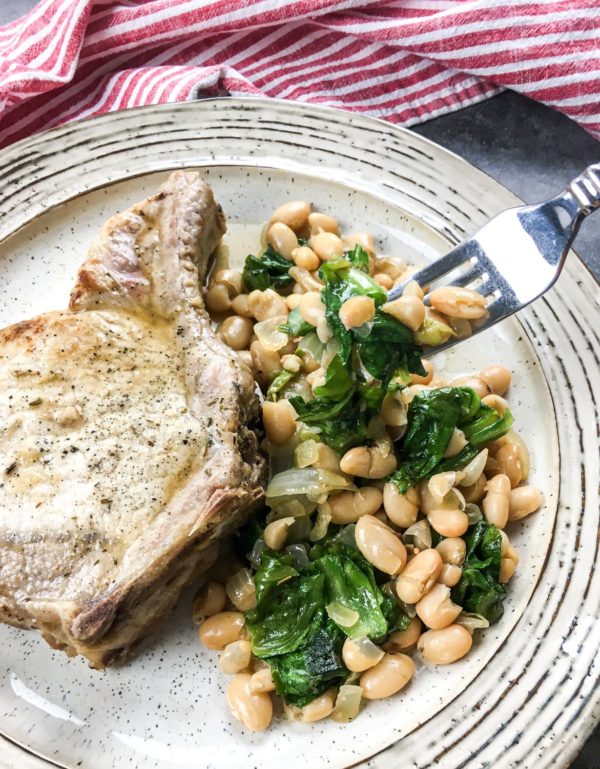 | | |
| --- | --- |
| | |
Add olive oil, onion, and garlic to a large, high-sided skillet set over medium heat. Season with salt and black pepper, to taste, and cook, stirring frequently, until the onion and garlic softens and develops some color, approximately 3-4 minutes.

Season pork chops with sea salt and black pepper, to taste, and add to the skillet. Brown the chops on each side until they release easily from the skillet, approximately 4-5 minutes per side.

Add chicken broth, cannellini beans, and oregano to skillet. Season with salt and black pepper, to taste, and cover. Reduce heat to medium-low and cook for8-10 minutes, or until internal temperature is just over 140°F with an instant read thermometer. Remove from heat, cover and let rest for 5 minutes.

While the chops rest, add the chopped escarole to the skillet and stir to combine. Sauté until just wilted, stirring frequently, approximately 2-3 minutes. Remove from heat and serve immediately with the pork chops. Enjoy!