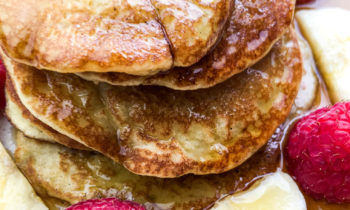 For avoid lumps, sift the coconut flour before adding to the batter. If you don't have a sifter, pour flour into a fine-mesh sieve and gently shake over the bowl.
| | |
| --- | --- |
| | |
In a large mixing bowl, whisk the egg, egg whites, maple syrup, olive oil, and vanilla extract until smooth. Pour in the coconut milk and whisk to combine.

Add the sifted coconut flour, baking powder, and a small pinch of salt. Gently fold in the dry ingredients without overworking the batter.

Melt about a teaspoon of coconut oil in a large, hot non-stick skillet or griddle and pour 2-3 tablespoons of batter per pancake. Cook until the pancakes are set and the edges turn a deeper golden color, around 1-2 minutes.

Flip and cook the remaining side another 1-2 minutes, or until golden brown. Remove from heat and repeat this process with the remaining batter.

To serve, stack several pancakes and top with sliced banana, raspberries, and drizzle with real maple syrup, if desired. Enjoy!