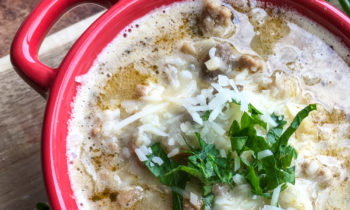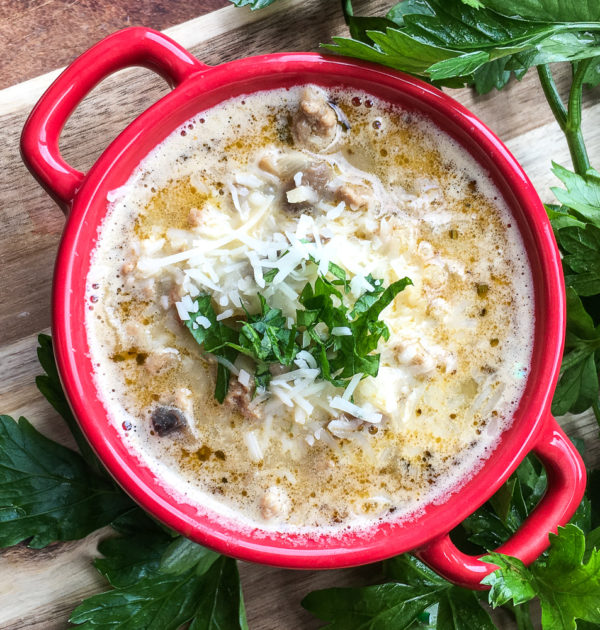 | | |
| --- | --- |
| | |
Heat olive oil in a large skillet over medium-high heat. Add the onion and celery and sauté, stirring frequently, until the veggies are soft, approximately 4-5 minutes.

Add the mushrooms, ground turkey, Italian seasoning, red pepper flakes, garlic powder, and onion powder to the skillet. Season with salt and black pepper, to taste. Cook, stirring frequently, until the turkey is no longer pink and the mushrooms start to release their juices, approximately 5-7 minutes.

Reduce heat to medium and add chicken stock. Simmer for 2-3 minutes oruntil heated through. Add a spoonful of the hot liquid to the heavy cream to temper it before adding it to the skillet, as well. Stir to combine and simmer for another 1-2 minutes.

Add frozen cauliflower rice and 1½ cups of the shredded cheese to skillet and stir to combine. Cook for 1-2 minutes, or until cauliflower is heated through and cheese is completely melted. Taste and adjust seasonings, as desired.

Remove from heat and transfer to individual soup bowls. To serve, top each bowl with remaining cheese and fresh parsley, if desired. Enjoy!
Nutritional Information: **
Carbs/Serving:
Total Carbs: 7.29g
Fiber: 2g
Net Carbs: 5.29g
Calorie Breakdown:
Protein: 26%
Fat: 67%
Carbohydrates: 7%
**Source: HappyForks.com recipe analyzer.
Nutritional information provided for entertainment purposes only and is not to be construed as medical advice.