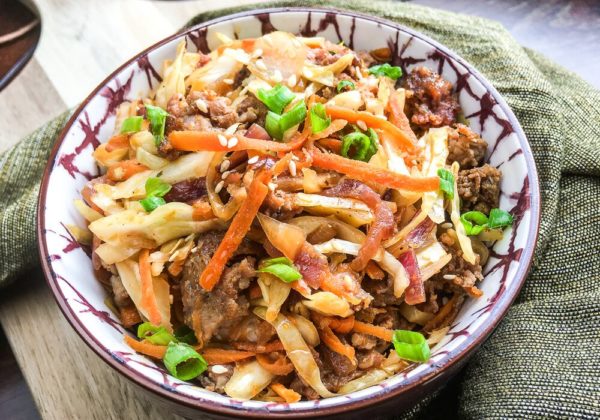 | | |
| --- | --- |
| | |
Heat a large high-sided skillet over medium-high heat. Add sausage and cook, breaking the meat into small pieces as it cooks, for approximately 5-6 minutes. Once sausage is no longer pink, remove from heat and carefully drain excess grease from pan. Safety Tip:Wipe off any excess fat that drips down the side of the pan before returning to burner.

Return skillet to heat. Add water and scrape up brown bits from the bottom of the pan with a spatula. Reduce heat to medium and add shredded cabbage, carrots, garlic powder, sesame oil, ginger, and green onions. Season with salt and black pepper, to taste, and cook, stirring frequently, until the cabbage wilts and the carrot softens, approximately 4-5 minutes.

Add rice vinegar and coconut aminos and stir to combine. Cook another 1-2 minutes or until heated through. Remove from heat and transfer to a serving platter or bowl. Sprinkle with toasted sesame seeds, if using,and serve immediately. Enjoy!
Nutritional Information: *
Carbs/Serving:
Total Carbs: 8.38g
Fiber: 2.2g
Net Carbs: 6.18g
Calorie Breakdown:
Protein: 19%
Fat: 73%
Carbohydrates: 8%
*Source: HappyForks.com recipe analyzer.
Nutritional information provided for entertainment purposes only and is not to be construed as medical advice.