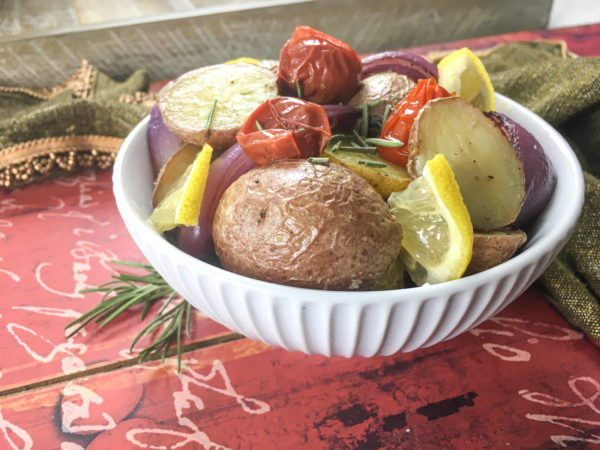 | | |
| --- | --- |
| | |
Preheat oven to 400ºF and line a large rimmed baking sheet with parchment paper or a Silpat™ baking sheet. Set aside.

Add red onion, potatoes, tomatoes, rosemary leaves, and garlic powder to a large bowl. Season with salt and black pepper, to taste. Drizzle with olive oil and toss to combine.

Spread the seasoned vegetables onto the prepared baking sheet in a single layer without overcrowding. Scatter lemon slices and whole garlic cloves in amongst the vegetables.

Place sheet pan in the pre-heated oven and roast for 25-30 minutes, turning the vegetables after 15 minutes. Once the vegetables are fork tender and nicely browned, remove from oven.

Remove the lemon slices with tongs, squeezing the excess juice out in the process. Squeeze the roasted garlic onto the warm baking sheet or reserve for another use (such as stirring into soups or dips). Give the vegetables a good stir to coat in the pan juices before transferring to a serving bowl. Garnish with fresh lemon wedges and serve immediately with your choice of entrees. Enjoy!