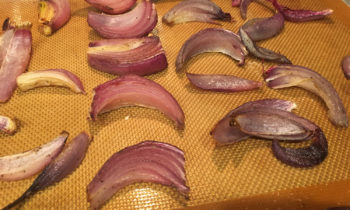 Roasting is a great way to deepen and intensify the inherent sweetness of red onions. Unfortunately, this process can also cause the onions to turn a deep blue-grey color as they cool. Although the off-color onions are still perfectly safe (and delicious) to eat, the result isn't very appealing visually.
One popular theory is that red onions act as a sort of "litmus test," with grey onions indicating a more alkaline environment. This test shows a visual side-by-side comparison of when red onions are roasted with a bit of added acidity (red wine vinegar) for balance vs. when they are not.
In this case, the results are clear: The addition of red wine vinegar prior to roasting yields brighter, more visually appealing results than those prepared without the extra acidity added.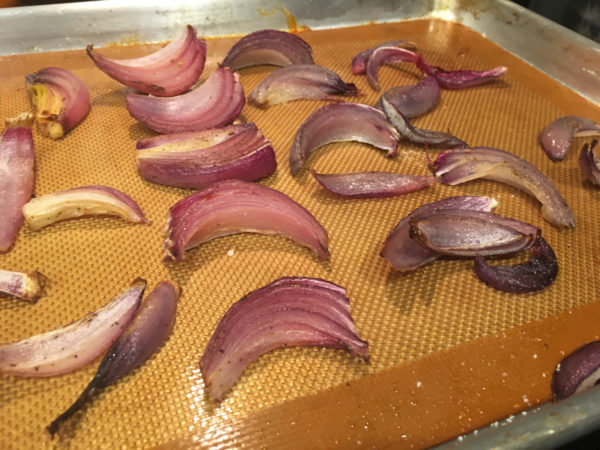 | | |
| --- | --- |
| | |
Place the top oven rack in the center position and pre-heat oven to 400°F. Line a large, rimmed baking sheet with parchment paper or a Silpat™ baking sheet. Set aside.

Add half the onion to a medium bowl, along with one tablespoon olive oil. Season with salt and black pepper, to taste, and gently toss until the onion is evenly coated. Transfer to the prepared baking sheet and spread into an even layer on one side of the sheet pan without overcrowding. Set aside.

Add remaining onions to the same bowl and top with the remaining olive oil and the red wine vinegar. Season with salt and black pepper, to taste. Gently toss to combine and transfer to the other side of the baking sheet before spreading into a thin, even layer without overcrowding.

Place baking sheet in the pre-heated oven for 30 minutes, turning once after 15 minutes. Remove from oven and cool slightly before handling. (See images for a side-by-side comparison of the results).