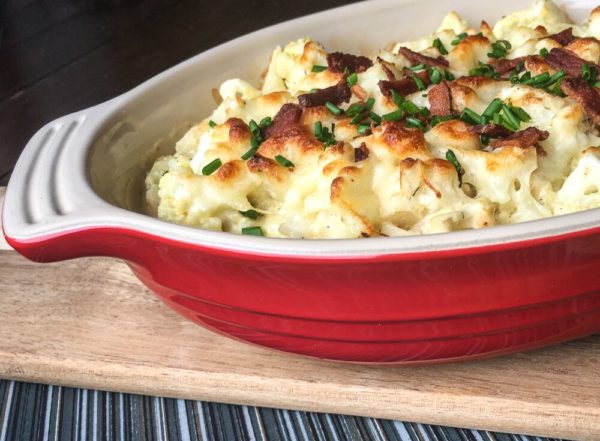 | | |
| --- | --- |
| | |
Place top oven rack in the center position and preheat oven to 400°F.

Place the cauliflower in a steamer basket on top of a pot with boiling water and steam until fork-tender, around 6-7 minutes.Remove from heat and transfer cauliflower into a cold water bath to prevent further cooking. Drain well and pat dry.

Transfer steamed cauliflower to a large bowl and add cream cheese, heavy cream, butter, garlic powder, and dried dill. Season with salt and black pepper, to taste, and toss to combine.

Transfer to oven-safe casserole dish and top with shredded cheese blend and crumbled bacon. Place in pre-heated oven and roast until cheese is melted and nicely browned on top, around 8-10 minutes.

Remove from oven and serve immediately topped with fresh chives. Enjoy!
Nutritional Information:*
Carbs/Serving:
Total Carbs: 5.36g
Fiber: 1.5g
Net Carbs: 3.86g
Calorie Breakdown:
Protein: 15%
Fat: 78%
Carbohydrates: 7%
*Source: HappyForks.com recipe analyzer.
Nutritional information provided for entertainment purposes only and is not to be construed as medical advice