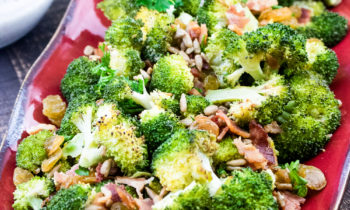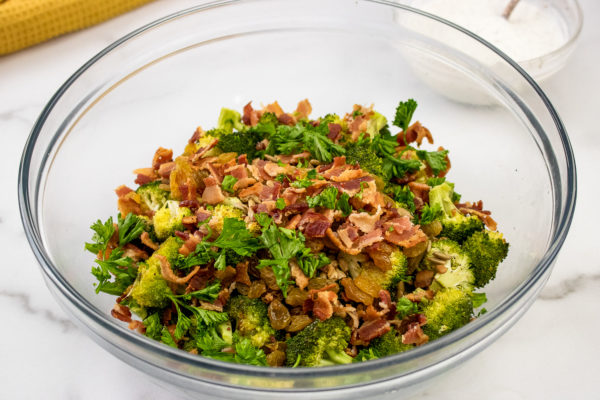 | | |
| --- | --- |
| | |
Preheat oven to 375°F and line a large, rimmed baking sheet with parchment paper or a Silpat baking mat. Set aside.

Combine the broccoli florets with the olive oil in a large bowl, and sprinkle with garlic powder, salt, and black pepper. Gently toss to combine and spread onto the prepared baking sheet in a single layer without overcrowding.

Place baking sheet in the pre-heated oven and roast until the broccoli is tender and slightly charred around the edges, approximately 15-20 minutes.

Meanwhile, combine the Greek yogurt, sugar-free mayo, apple cider vinegar, and dried dill in a small bowl. Season with salt and black pepper, to taste, and whisk to combine. Set aside.

Remove broccoli from oven and set aside to cool slightly.

Toss the roasted broccoli, crumbled bacon, raisins, sunflower seeds, and fresh parsley in a large salad bowl and transfer to a serving platter. Drizzle with the yogurt dressing to serve. Enjoy!