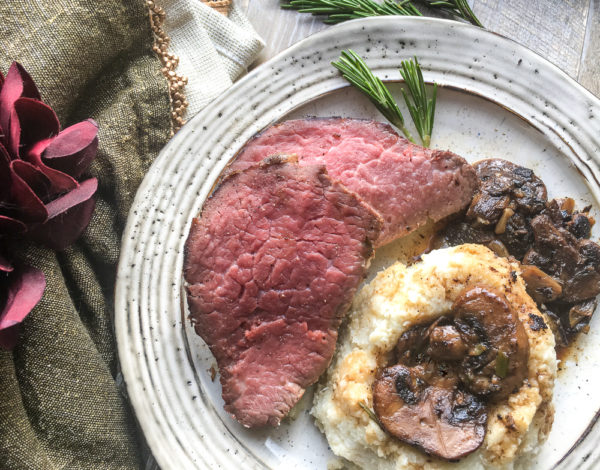 | | |
| --- | --- |
| | |
Place oven rack in center position and pre-heat oven to 350°F.

Melt one tablespoon coconut oil in a large, high-sided skillet over medium heat. Add the mushroom and shallots and season with salt and black pepper, to taste. Cook, stirring occasionally, until the mushrooms and shallots develop a bit of color and soften, approximately 4-5 minutes. Remove from heat and transfer to a bowl and set aside.

Melt the remaining coconut oil in a small bowl in a microwave. Add the rosemary and garlic to the coconut oil and season with salt and black pepper, to taste. Rub the rosemary-garlic mixture on top and all along the sides of the beef.

Arrange the sliced red onion on the bottom of the same skillet and place the seasoned beef tenderloin on top of the onions.

Arrange the mushroom and shallot mixture around the sides of the beef and place in the pre-heated oven for 45-50 minutes for medium-rare or longer for more well done results.

Remove from oven and rest for 10-15 minutes before serving. Enjoy!