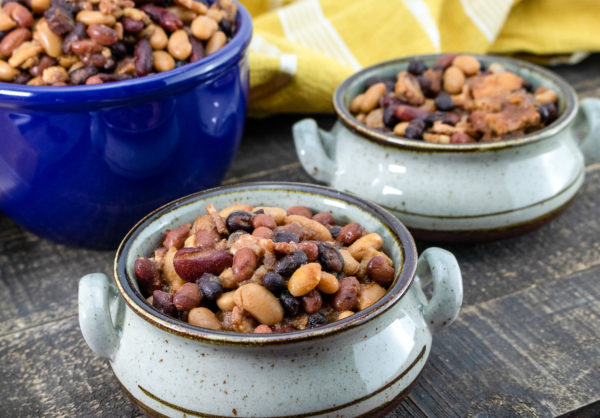 Prep Time

10

minutes (+ 10-15 minutes to brown bacon)
Cook Time

4

hours high or 8 hours on low
Prep Time

10

minutes (+ 10-15 minutes to brown bacon)

Cook Time

4

hours high or 8 hours on low
Add chopped bacon and onion to a large skillet. Season with salt and black pepper, to taste, and cook over medium heat until bacon starts to get crispy and the onion is soft, approximately 10-15 minutes.

Remove skillet from heat and carefully drain excess grease. Set aside.

Add the beans, bacon, and onion to a 6-quart or larger slow cooker crock. Top with the tomato paste, Dijon mustard, liquid smoke, maple syrup, and chicken broth, and stir to combine.

Cover and cook on high for 4 hours or on low for 8 hours. Remove lid and stir to combine. Taste and season with additional salt and black pepper, if desired, before serving. Enjoy!