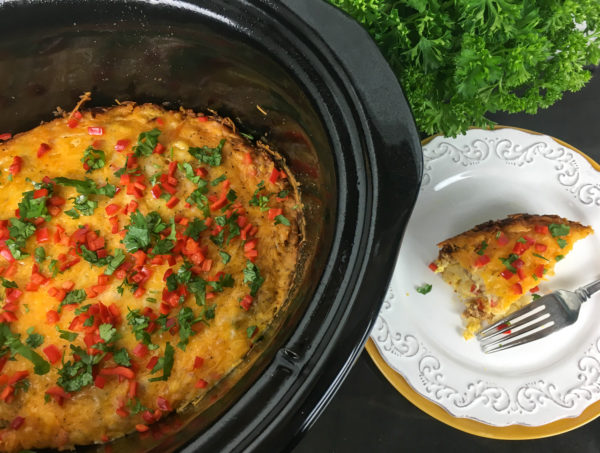 Prep Time

10

minutes (+ 10 minutes to brown sausage)
Prep Time

10

minutes (+ 10 minutes to brown sausage)
Spray a 6-quart or larger slow cooker crock with non-stick cooking spray (or grease with melted butter or coconut oil).

Cook sausage in a large skillet until nicely browned, approximately 8-10 minutes. Remove from heat and carefully drain excess grease from the skillet. Set aside.

Spread hash browns in an even layer across the bottom of the slow cooker crock. Add the browned sausage and sprinkle the ground cumin and garlic powder on top.

Add the chopped red pepper and season with salt and black pepper, to taste.

Whisk the eggs and water together in a large bowl and pour evenly across the top of the other ingredients before topping with the shredded cheese.

Cover and cook on low for 4 hours. Serve immediately topped with green onion, red pepper, fresh cilantro, and/or additional shredded cheese, if desired. Enjoy!