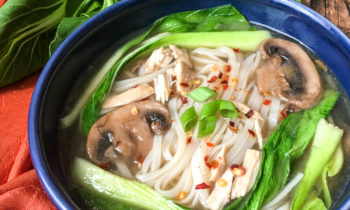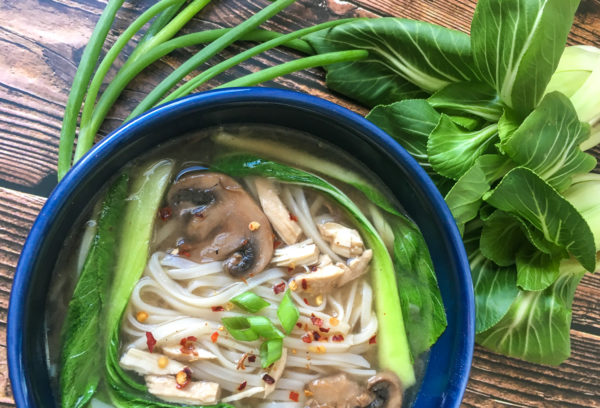 Cook Time

2

hours + 15 minutes to assemble
Cook Time

2

hours + 15 minutes to assemble
Fill a large container or pot with water and attach the sous vide circulator to the side. Set the temperature to 145°F and the cook time to 2hours.

While the water bath heats up, drizzle the chicken breasts with the toasted sesame oil and season with salt and black pepper, to taste.

Place chicken breasts in an airtight plastic bag and remove as much air as possible while sealing.

Once the water bath reaches the set temperature,add the sealed bag. (The bag will sink if enough air has been removed). Adjust the sous vide timer back to two hours, if necessary.

10 minutes before the chicken is done, heat the olive oil in a large, high-sided skillet over medium heat. Add the white part of the green onions and garlic and cook, stirring continually, for 1 minute or until fragrant.

Add the sliced mushrooms to the skillet and sprinkle the five spice powder and freshly grated ginger on top. Season with salt and black pepper, to taste. Cook, stirring frequently, until the mushrooms are golden brown, approximately 5-6 minutes.

Add the chicken broth and simmer, stirring occasionally, until heated through.

When to cook time is complete, remove the chicken breasts from the water bath and discard any liquid in the plastic bag. Transfer the chicken breasts to a plate and pat dry with a paper towel. When cool enough to handle, shred or chop the chicken as desired.

Add the chicken, bokchoy,and rice noodles to the skillet and continue cooking until the greens are wilted and the rice noodles are tender, but not too soft, approximately 5-6minutes.

Remove from heatand serve immediately garnished with sliced green onions and crushed red pepper flakes, if using. Enjoy!