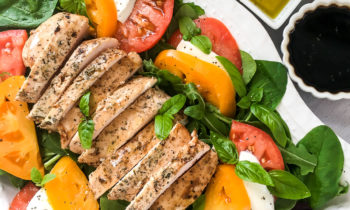 Tip: Actual cook time will depend on several factors, including the thickness of the chicken breastsand desired texture.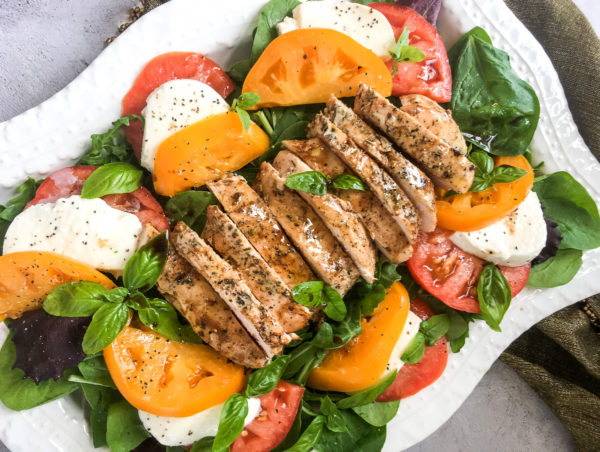 Cook Time

1

hour and 15minutes
Cook Time

1

hour and 15minutes
Fill a large container or pot with water and attach the sous vide circulator to the side. Set the temperature to 145°F and the cook time to 1 hour and 15 minutes.

While the water bath heats up, sprinkle the chicken breasts on both sides with the Italian seasoning and season with salt and black pepper, to taste.

Place chicken breasts in an airtight plastic bag and remove as much air as possible before sealing.

Once the water bath reaches the set temperature, add the sealed bag. (The bag will sink if enough air has been removed). Adjust the sous vide timer back to one hour and fifteen minutes, if necessary.

When the chicken is almost done, prep the salad by dividing the mixed salad greens, heirloom tomato slices, and fresh Mozzarella between individual serving plates.

When to cook time is complete, remove the chicken breasts from the water bath and discard any liquid in the plastic bag. Transfer the chicken breasts to a plate and pat dry with a paper towel.

Heat the olive oil in a large skillet over medium heat and sear the chicken breasts on each side until they develop a bit of color, approximately 3-4 minutes per side.

Remove from heat and rest for 5 minutes before slicing and placing one sliced breast on top of each salad. Garnish each salad with some fresh basil sprigs and season with salt and black pepper, to taste.

Serve immediately with some high-quality extra virgin olive oil and balsamic vinegar. Enjoy!