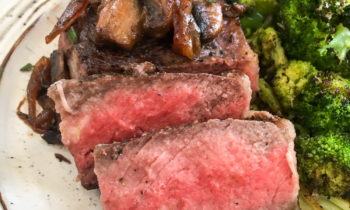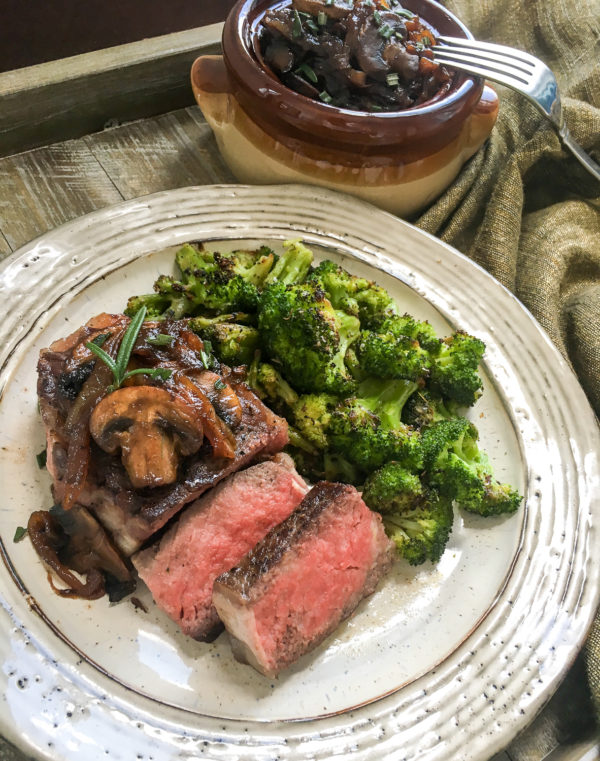 Cook Time

2

hours+ 10 minutes to finish
Cook Time

2

hours+ 10 minutes to finish
Fill a large container or pot with water and attach the sous vide circulator to the side. Set the temperature to 131°F and the cook time to 2 hour.

While the water bath heats up, season the steaks with salt and black pepper, to taste. Place steaks in an airtight plastic bag, along with the crushed garlic and rosemary sprigs. Remove as much air as possible from the bag as possible before sealing.

Once the water bath reaches the set temperature, add the sealed bag. (The bag should sink if enough air has been removed). Adjust the sous vide timer back to two hours, if necessary.

Approximately one hour before the steak is done, prepare the caramelized onions (bonus recipe included in this package in the bonus folder), if using. Set aside.

When the cook time is complete, remove the steaks from the water bath and discard the rosemary, garlic, and any liquid in the plastic bag. Transfer the steaks to a plate and pat dry with a paper towel. Set aside.

Heat two tablespoons olive oil in a large skillet over medium heat and add the sliced mushrooms. Cook, stirring occasionally, until the mushrooms are golden brown and start to release their juices, approximately 5-6 minutes.

Remove mushrooms from skillet and add remaining olive oil. Increase heat to medium-high and add steaks. Sear the steaks on each side until they develop nice color, approximately 2-3 minutes per side.

Remove from heat and rest for 5 minutes before serving with the caramelized onions and mushrooms,and your choice of sides. Enjoy!