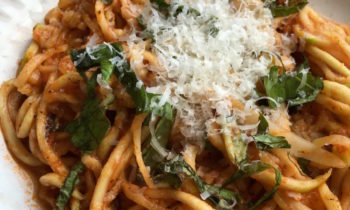 This recipe replaces traditional pasta with healthy and delicious zucchini noodles, so you can indulge in it often without any guilt.
All'arrabbiata is a spicy Italian red sauce made with red pepper flakes. It is traditionally served with rigatoni or penne noodles, but here it is paired with crisp-tender spaghetti-like zucchini noodles.
If you'd like to save a little time, you can use prepared arrabbiata sauce. However, you can make your own from scratch in less than half an hour or you can make large batches in advance and freeze the rest for easy weeknight meals.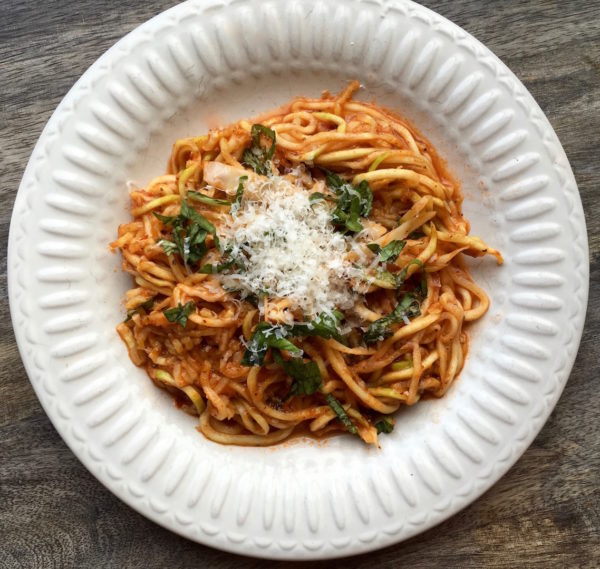 | | |
| --- | --- |
| | |
Prepare the sauce by heating olive oil in a large skillet over medium heat. Add the crushed red pepper flakes and heat until fragrant. Reduce heat to medium-low, then add tomato paste, tomatoes, oregano, and garlic powder. Season with salt and pepper, to taste.

Simmer until sauce is slightly reduced, approximately 20 minutes, stirring occasionally.

While the sauce is cooking, slice zucchini into thin, long noodles with a spiral slicer. (If using the Paderno Tri-Blade Vegetable Spiral Slicer, use the small Dzshredderdz blade to create spaghetti-like strands).

Cut the noodles with kitchen scissors once they reach 10-12dz long. Place cut noodles on paper or clean kitchen towels to absorb excess moisture and set aside.

Heat olive oil and garlic in a large skillet over medium-high heat until the garlic turns golden brown, about 4-5 minutes.

Reduce heat to medium and remove garlic from the pan with a slotted spoon or fork and discard. Add zucchini noodles to skillet and sauté for approximately 2 minutes. While cooking, use tongs to flip the noodles to ensure they are warmed on each side. Season with salt and pepper, to taste, and set aside.

Remove from heat and toss with warm arrabbiata sauce. Transfer to a serving dish and top with sliced basil and freshly grated Parmesan cheese, if desired. Serve immediately.