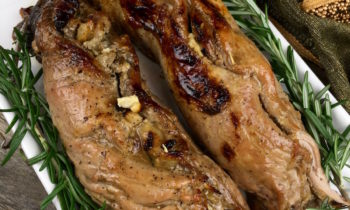 This incredibly flavorful stuffed pork tenderloin makes an elegant main course for any holiday gathering. It pairs well with most traditional side dishes and tastes even better as leftovers the next day. Assuming there are any, of course!
The key to success with this recipe is to make sure you select pork tenderloin instead of a regular pork loin roast. Tenderloins are longer and narrower than loin roasts, and they normally weigh around 1 pound each. Therefore, a two-pound (or slightly larger) package will contain two individual pieces of meat. Butterfly both pieces by cutting halfway through the meat lengthwise, without cutting all the way through. Then, pound and stuff each piece as described below.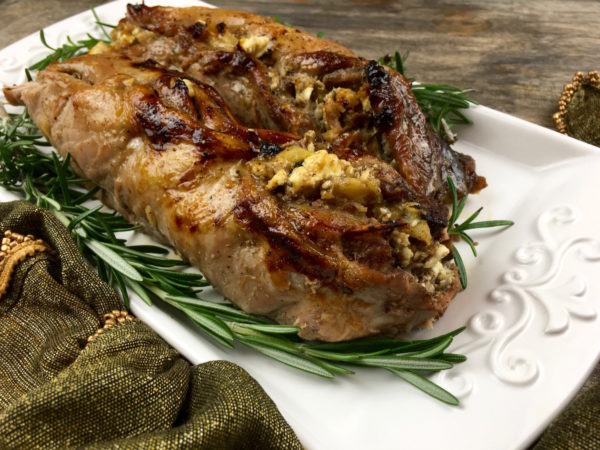 | | |
| --- | --- |
| | |
Let pork tenderloin rest at room temperature for at least 30 minutes, but not more than 2 hours, before cooking.

Preheat oven to 425°F. Combine apple juice and white wine in a small bowl and season with salt and black pepper, to taste. Set aside.

Place a sheet of plastic wrap on a clean, dry work surface. Add the butterflied tenderloins on top of the plastic and cover with a second sheet of plastic wrap. Pound the meat with a meat mallet or rolling pin until it is approximately 1/3"thick throughout. Season lightly with salt and black pepper.

Heat olive oil in a large skillet over medium heat. Add chopped apples, red onion, and mushrooms. Cook, stirring occasionally, until the apples are soft and mushrooms and onion are browned, approximately 8-10 minutes. Season with salt and black pepper, to taste.

Add rosemary, cinnamon, and cloves to the skillet and cook for another minute or two, or until the spices become fragrant. Remove from heat and stir in the chopped dates and crumbled Feta.

Spread the stuffing mixture onto the prepared pork tenderloins and roll up tightly. Secure the roasts with kitchen string or toothpicks.

Carefully transfer the tenderloins to a large roasting pan. Using a pastry brush, coat the outside of each roast with the apple cider/wine mixture, then pour half of the remaining liquid into the pan. Sprinkle roasts lightly with salt and black pepper, if desired, before placing the paninto the pre-heated oven.

Baste the pork with the remaining apple cider mixture every 10-15 minutes while it cooks. Check for doneness after 50 minutes and continue cooking until an instant read thermometer inserted into the center of the pork reads just below 145°F. (Temperature will increase while the meat rests).

Remove from oven and cover pan loosely with aluminum foil. Let rest for 10-15 minutes before removing the kitchen string or toothpicks. Slice and serve immediately with a drizzle of pan juices. Enjoy!