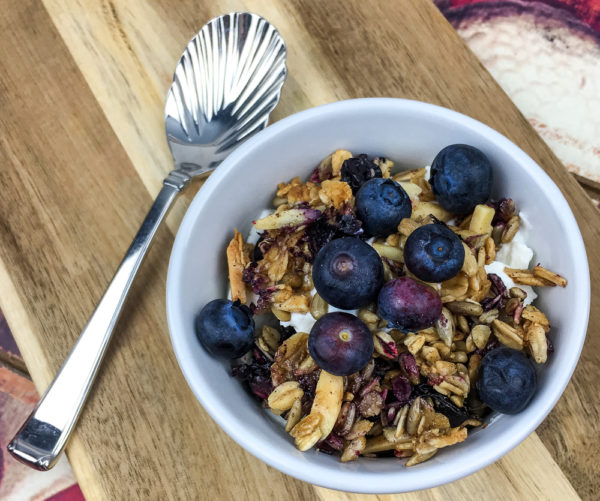 | | |
| --- | --- |
| | |
Pre-heat oven to 375°F and line a large, rimmed baking sheet with parchment paper or a Silpat® baking mat. Set aside.

In a large mixing bowl, whisk the melted butter, maple syrup, and vanilla extract until combined. Add the oats, almonds, sunflower seeds, dates, cinnamon, and salt.Stir until the dry ingredients are lightly coated in the butter mixture.

Gently fold in one cup blueberries,and then transfer the mixture onto the prepared baking sheet. Spread the granola into a thin, uniform layer.

Place the baking sheet into the pre-heated oven and bake for 10 minutes. Remove from oven and give the granola a good stir. Return to oven and bake for another 10 minutes before stirring again. If necessary, return to oven for another 5 minutes or until the oats are golden brown. Do not overcook or the granola may become bitter.

Remove from oven and cool completely. The granola will become nice and crispy as it cools. Once cooled, serve with Greek yogurt and the remaining fresh blueberries. Enjoy!