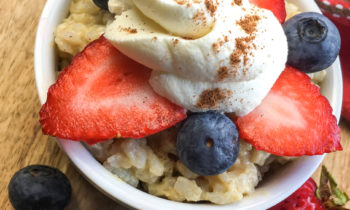 This creamy, custard-like rice pudding is so delicious and easy to make, it just might become your new favorite dessert. It is wonderful on its own with a sprinkle of ground cinnamon and maple syrup or with some fresh berries and whipped cream. For a truly decadent treat, serve warm with some homemade Blueberry Maple Compote.*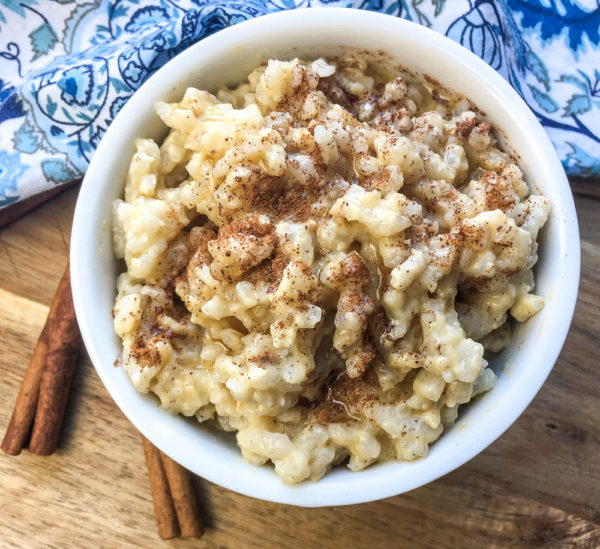 Cook Time

25

minutes + time to come to pressure
Optional toppings and garnish
Cook Time

25

minutes + time to come to pressure

Optional toppings and garnish
Add olive oil to Instant Pot and press the "Sauté" button. Adjust heat setting to normal. Add rice and stir until coated in the oil and lightly toasted, approximately 2 minutes.

Turn Instant Pot off and add 2 cups almond milk, maple syrup, vanilla extra, cinnamon, and salt. Stir to combine.

Add lid and lock into place. Press the "Manual" button and adjust setting to high. Set cook time to 10 minutes and set the pressure valve to "Sealing."After a brief pause, the Instant Pot will automatically start building pressure.

Meanwhile, whisk the eggs with the remaining almond milk in a medium-sized mixing bowl and set aside.

When the cook time is complete, turn the Instant Pot off to prevent scorching. Allow pressure to release naturally for 15 minutes, and then release the remaining pressure manually.

Unlock and remove lid and transfer one heaping spoonful of the hot rice mixture to the beaten eggs and stir to combine. Repeat with another spoonful of rice before slowly whisking the tempered egg mixture into the Instant Pot.

Press the "Sauté" button and adjust the heat setting to normal. Stir the mixture continually until the pudding thickens and the egg is thoroughly incorporated, approximately 3-4 minutes.

Turn the Instant Pot off and immediately remove the cooking container to prevent scorching. Allow pudding to cool slightly before serving or transfer to a storage container and press a layer of plastic wrap across the surface before placing in the refrigerator.

Serve warm or chilled topped with fresh fruit or warm berry compote and a dollop of whipped cream, if desired. Enjoy!