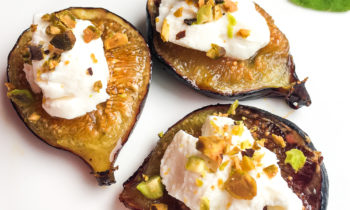 Labneh is a soft cheese made from strained yogurt. It is easy to make at home by simply adding a bit of salt and straining the excess whey with the help of a strainer and some cheesecloth or other porous fabric.
Tip: If you don't have time to prepare the labneh for this recipe, you can substitute goat cheese or even cream cheese for a less tangy alternative.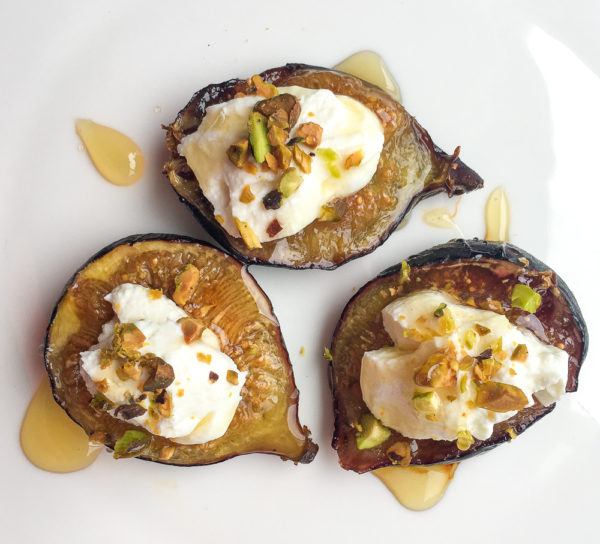 Prep Time

10

minutes + time to strain labneh (1-2 days)
Prep Time

10

minutes + time to strain labneh (1-2 days)
To make the labneh, combine yogurt and salt in a small bowl and stir until blended. Line a metal strainer with several layers of cheesecloth and position strainer over a large, deep bowl.

Transfer yogurt mixture to the lined strainer and cover. Place in the refrigerator to drain for 1-2 days. (The longer the yogurt is strained, the firmer the labneh will become).

To prepare roasted figs, pre-heat oven to 350°F and line a large, rimmed baking sheet with parchment paper or a Silpat® baking sheet. Arrange sliced figs on baking sheet, cut side up, and drizzle with some honey.

Place baking sheet in pre-heated oven and roast for 30-35 minutes. Remove from oven and let cool for several minutes.

Top each roasted fig with a spoonful of fresh labneh and a sprinkle of chopped pistachios. Drizzle with some local honey and serve immediately. Enjoy!