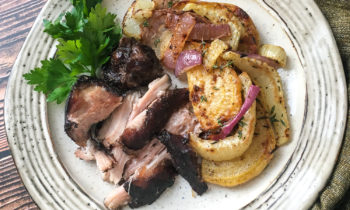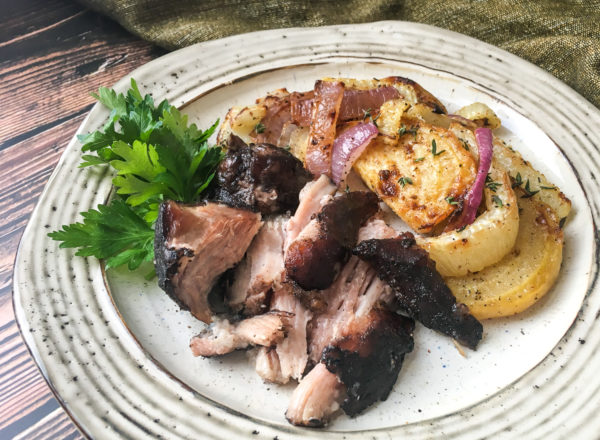 Cook Time

24

hours+ 12-15minutes to finish
Cook Time

24

hours+ 12-15minutes to finish
Fill a large container or pot with water and attach the sous vide circulator to the side. Set the temperature to 145°F and the cook time to 24hours.

While the water bath heats up, combine the dry rub ingredients in a small bowl. Rub the spice mixture into each pork shoulder section until each side is thoroughly coated.

Place the seasoned pork into a large airtight plastic bag. Remove as much air as possible from the bag while sealing.

Once the water bath reaches the set temperature, add the sealed bag. (The bag should sink if enough air has been removed). Adjust the sous vide timer back to 24 hours, if necessary.

Approximately one hour before the pork is done, pre-heat the oven to 400°F and line a large, rimmed baking sheet with parchment paper or a Silpat baking sheet. Set aside.

Combine the beets, fennel, and red onion in a large bowl. Add the olive oil, fresh thyme, and garlic powder. Season with salt and black pepper, to taste, and toss to combine.

Spread the seasoned vegetables onto the prepared baking sheet into a single layer without overcrowding. Place in the pre-heated oven and roast for 15minutes before turning the vegetables. Return to oven and continue roasting for another 15-20minutes or until nicely browned and fork tender. Remove from oven and set aside.

When the sous vide cook time is complete, remove the pork from the water bath and discard the liquid in the plastic bag. Transfer the pork to a plate and pat dry with a paper towel.

Heat two tablespoons olive oil in a large skillet over medium-high heat and add the pork roast. Sear on each side until golden brown, approximately 2-3minutesper side.

Remove from heat and rest for 5 minutes before slicing. Serve immediately with the roasted root vegetables on the side.Enjoy!