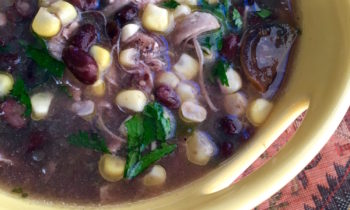 This delicious, one-skillet dish packs a ton of flavor into every bite. Adding some freshlime juice and cilantro right before serving really brightens the flavors and pulls them all together. This soup makes a great appetizer, or pair it with a crisp, green side salad for a light, yet satisfying meal.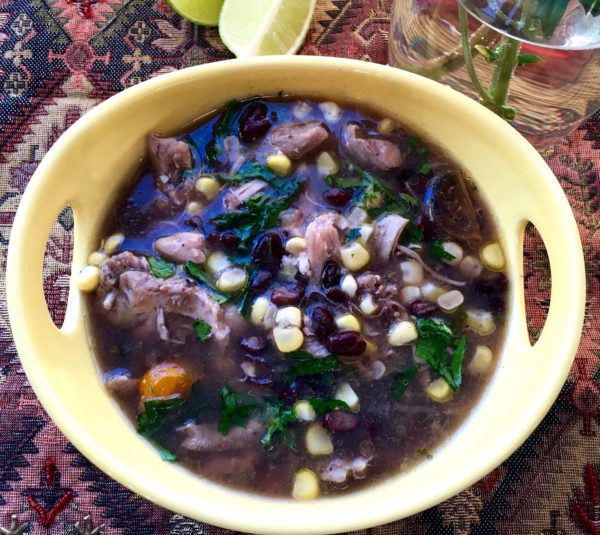 | | |
| --- | --- |
| | |
Heat olive oil and garlic in a large, high-sided skillet over medium-high heat. Sauté garlic until golden brown, about 4-5 minutes. Remove browned garlic with a slotted spatula and discard.

Unroll chicken thighs and season both sides with salt and black pepper, to taste. Add chicken to hot skillet and brown on both sides, approximately 3-4 minutes per side.

Add just enough chicken broth to skillet to cover about 1/3 of the chicken thighs. Cover and reduce heat to medium-low. Simmer until chicken is pull-apart tender, approximately 40-45 minutes.

Once tender, carefully shred chicken with 2 forks while still in the skillet. Add corn kernels, black beans, chopped tomatoes, jalapeno pepper, cumin, chili powder, oregano, and cayenne pepper to skillet and top off with remaining chicken stock. Stir to combine and season with additional salt and black pepper, to taste.

Increase heat to medium and simmer until heated through, approximately 15 minutes. If time permits, simmer longer to give flavors more time to mingle. Remove from heat and stir in juice from 2 whole limes and fresh cilantro. Serve immediately with remaining lime wedges. Enjoy!