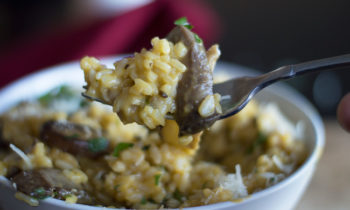 Risotto is most often associated with Northern Italy, where rice production is more common. However, this version gets its distinctive flair from the inclusion of two classic flavors often associated with Tuscany: Porcini mushrooms and Pecorino Romano cheese.
This rustic mushroom risotto recipe follows the traditional "stand and stir" technique of making risotto. Although this approach takes a bit more time, the results are well worth it.
Tip: When making this recipe, be sure to use Arborio rice. Other types of rice won't deliver the coveted rich, creamy texture this variety delivers. Most groceries stores carry Arborio rice, or you can easily find it online on sites such as Amazon (insert affiliate link, if desired).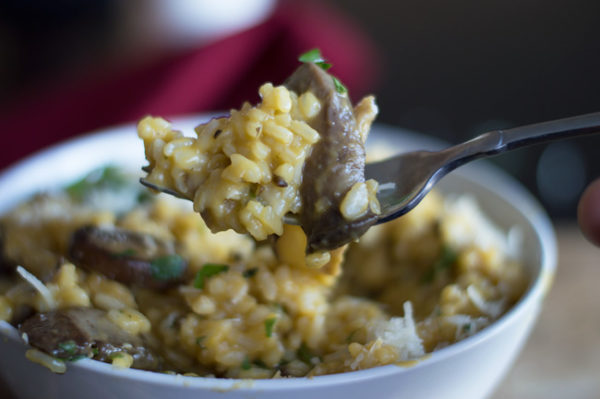 | | |
| --- | --- |
| | |
In a small saucepan over medium-high heat, heat chicken or vegetable broth until hot.

Meanwhile, add olive oil, one tablespoon butter, and garlic to another small saucepan. Turn heat to medium and sauté for approximately 1-2 minutes, stirring frequently, or until garlic softens.

Add onion and sauté for 2 minutes before adding the reconstituted Porcini mushrooms. Cook mushrooms approximately 4 or 5 minutes, or until they develop some color. Remove from heat and season with salt and black pepper, to taste. Transfer to a bowl and set aside.

Return pan to heat and add remaining butter. Add Arborio rice and cook until thoroughly coated, approximately 1-2 minutes. Add white wine and stir constantly until wine is completely absorbed.

Add one cup warm broth to pan and stir constantly until it is completely absorbed. Repeat with remaining broth, one cup at a time, until it is all incorporated and the rice has achieved a rich, creamy consistency. This process should take approximately 25 – 30 minutes. (For a creamier texture, add more broth until you achieve the results you desire).

Remove from heat and stir in the freshly grated Pecorino Romano cheese and fresh parsley. Add sautéed mushroom mixture and stir until thoroughly combined. Season with salt and black pepper, to taste.

Transfer to serving dish and sprinkle with additional fresh parsley, if desired. Serve immediately.