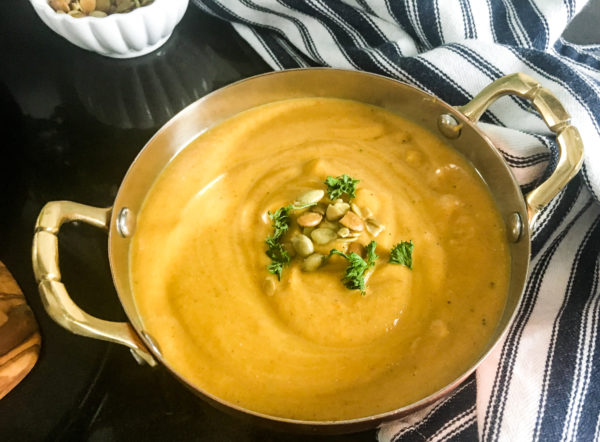 Cook Time

3

hours high or 6 hours on low
Cook Time

3

hours high or 6 hours on low
Add butternut squash, apple, pear, carrots, and leek to a 6-quart or larger slow cooker crock. Sprinkle the curry powder, cinnamon, and all-spice on top and season with salt and black pepper, to taste.

Pour the chicken broth over the vegetables and stir to combine. Cover and cook on high for 3 hours or low for 6 hours.

When cook time is complete, remove lid and cool slightly before pureeing with an immersion blender. (If you don't have an immersion blender, carefully transfer the vegetables in batches to a blender or food processor to process until smooth).

Temper the heavy cream by adding one or two spoonfuls of the hot vegetable puree to it before adding to the slow cooker crock. Blend with the immersion blender again until the cream is thoroughly incorporated into the soup and the vegetables are completely smooth. (If using a blender or food processor, temper the cream and add it while processing the vegetables).

To serve, transfer the soup into individual serving bowls and top with toasted pumpkin seeds and some fresh chopped parsley. Enjoy!